ZEPHYR CEMETERY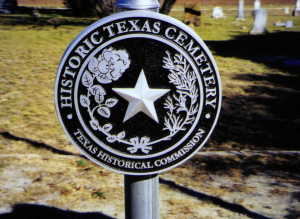 Texas Historical Medallion Dedicated June 1, 2001
The original Zephyr Cemetery consisted of the MIDDLE SECTION, 3 1/2 acres donated by E.C. and/or Samuel McBurney in 1878. In 1942, John Maynard Renfroe deeded 2 acres known as the SOUTH SECTION. The NORTH SECTION consists of 2 acres donated by Elmer and Maud Petty in January 1944. In 1972, to construct an East driveway, D.A. Young donated 0.15 of an acre and Mrs. M.E. (Opal) Willis donated 0.111 of an acre. As of September 2001, the Zephyr Cemetery consists of 7.761 acres according to Deeds on file.
The earliest known grave sites recorded per tombstones: three Staggs children died in January and December 1878, and January 1879. The first known adult buried was Mrs. John (Ann C. Sewell) Ward died June 15, 1879.
Prior to 1972, management of the cemetery was handled by the "Free Will" Zephyr Cemetery Board of Directors. Those elected were: L.. W. "Toss" Coffey, president; Roy Fisher, vice president; Richard Gist, secretary; Charles Cabler, treasurer; Lynn Coffey, Fred Greer, and June Locks Guyer. In 1972, this Board established the PERMANENT CARE FUND BOARD OF DIRECTORS. In 1979, the two Boards merged into one board, known as the ZEPHYR CEMETERY ASSOCIATION with nine Directors. A goal of $50,000 was set and the interest was designated to be used for the care and upkeep of the Zephyr Cemetery grounds. Due to the generosity of the Zephyr people, this Board has operated and maintained the cemetery very efficaciously.
In 1984, a Zephyr Cemetery Survey Book was compiled of all known graves and has been kept current through September 2001. This book contains two alphabetical indexes: Surname index and a Maiden name index cross-referenced to the husband's name with page and row number listed for location of the graves. In 1992, the Board of Directors, upon receipt of monies from the Will of A. R. Hochhalter, purchased an additional 8.00 acres to the East of the South end of the original cemetery for future development, plus 50 feet added to the original south end where two additional gate entrances were installed.
The 2001 Board of Directors: Mildred Mills Jenkins, President; Pauline Glass Hochhalter, Vice President; Richard Gist, Treasurer; and Geraldine Triplitt Campbell, Secretary. Directors: Ann Keeler Loyd, Jimmie Perkins and Joe Kemp, Don Baker and Grayson Wetzel.
Location: From Brownwood take US 183-84 for eleven miles south, to the comnnunity of Zephyr. Continue thorough Zephyr for one mile south and at the junction of 183 and CR 259, turn into the cemetery.

---
Return to Cemeteries Home Page
Return to Brown County Historical Commission Home Page
Return to Brown County History Home Page