Location: 701 Center Avenue, Brownwood
J. A. Walker House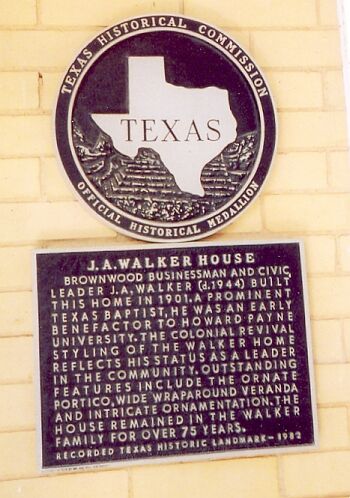 J. A .WALKER HOUSE
BROWNWOOD BUSINESSMAN AND CIVIC
LEADER J. A. WALKER (d.l944) BUILT
THIS HOME IN 1901. A PROMINENT
TEXAS BAPTIST, HE WAS AN EARLY
BENEFACTOR TO HOWARD PAYNE
UNIVERSITY. THE COLONIAL REVIVAL
STYLING OF THE WALKER HOME
REFLECTS HIS STATUS AS A LEADER
IN THE COMMUNITY. OUTSTANDING
FEATURES INCLUDE THE ORNATE
PORTICO, WIDE WRAPAROUND VERANDA
AND INTRICATE ORNAMENTATION. THE
HOUSE REMAINED IN THE WALKER
FAMILY FOR OVER 75 YEARS.
(1982)
Return to Historical Markers
Return to Historical Commission Home Page