Location: Bowsal and 2nd St., Zephyr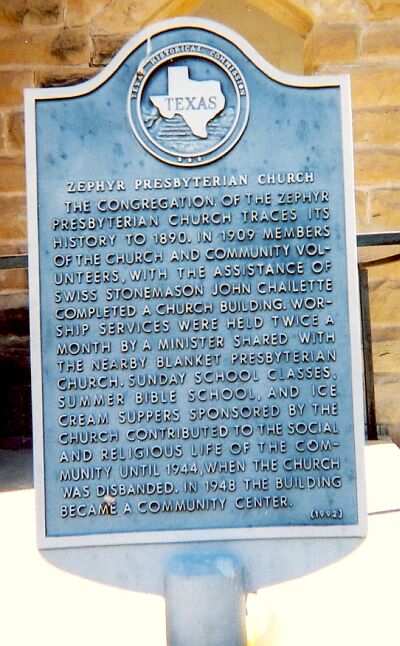 .
ZEPHYR PRESBYTERIAN CHURCH
THE CONGREGATION OF THE ZEPHYR
PRESBYTERIAN CHURCH TRACES ITS
HISTORY TO 1890. IN 1909 MEMBERS
OF THE CHURCH AND COMMUNITY VOL-
UNTEERS, WITH THE ASSISTANCE OF
SWISS STONEMASON JOHN CHAILETTE
COMPLETED A CHURCH BUILDING. WOR-
SHIP SERVICES WERE HELD TWICE A
MONTH BY A MINISTER SHARED WITH
THE NEARBY BLANKET PRESBYTERIAN
CHURCH. SUNDAY SCHOOL CLASSES,
SUMMER BIBLE SCHOOL, AND ICE
CREAM SUPPERS SPONSORED BY THE
CHURCH CONTRIBUTED TO THE SOCIAL
AND RELIGIOUS LIFE OF THE COM-
MUNITY UNTIL 1944, WHEN THE CHURCH
WAS DISBANDED. IN 1948 THE BUILDING
BECAME A COMMUNITY CENTER.
(1991)
Return to Historical Markers
Return to Historical Commission Home Page