Pleasant Valley Cemetery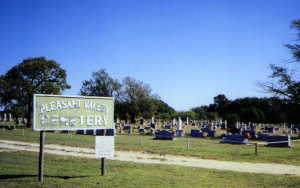 Many of the families that settled the May community also settled here in Pleasant Valley. The Wheelers, Boyds, Grays, and Chambers families came here in the mid 1870's.
The first person to be buried here is that of Nancy E. English, daughter of Mr. and Mrs. Robert M. English, on September 28, 1877. One year later, Robert English donated land for the Cemetery and at the same time deeded two acres for the Pleasant Valley Baptist Church. These are recorded in the Brown County Clerks office, in Vol. 40 pages 130 and 131. Later a deeded strip of lane was donated by Ed and Florence Moren (Vol. 284 - page 461). This was an attractive community and the Church building is still standing.
---
Return to Cemeteries Home Page
Return to Brown County Historical Commission Home Page
Return to Brown County History Home Page