Mukewater Cemetery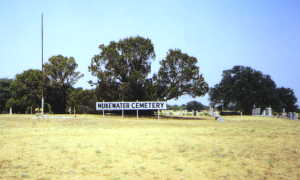 Located about two miles west of Bangs, Texas, off US 67. Watch for the Cemetery sign on the Highway. Turn onto CR 175 (Gravel). Go about one mile (do not cross the railroad). Turn left. The Cemetery is at the top of the hill
and on the north side of the road.
This Cemetery is very well maintained. It has an Association and many of the families buried here, still live in the area. The Cemetery began in 1883 and is on land belonging to the Brooks Family. First sunreyed March 1971, by Mrs. Hazel Wetzel and updated October 1999, by Jim and Georgia Rodgers. Additional information from Patsy Coffee and Jack Brooks. This is of the Julian Hernandez survey. Recorded in Abstract # 406, 4.8 acres.
---
Return to Cemeteries Home Page
Return to Brown County Historical Commission Home Page
Return to Brown County History Home Page