Moro Cemetery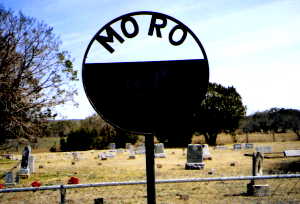 This Cemetery is located about eight miles east of Brownwood, on US 377 to the "Moro Cemetery" sign. Turn right onto CR 325 for about one mile. The Cemetery is on the left.
Mr. Sacob Landers Brewster stated the school was in the center of the present Cemetery grounds, and when he attended the school there were four graves near the School. The earlist date found on a marker is that of Gracie May Ingram. She was the daughter of W. D. & E. J. Ingram. She was born November 5, 1876 and died August 26 1877.
The deed to the Moro Cemetery Association is recorded in Volume 656, page 8. Also in Volume 600, page 472.
Mrs. Hazel Wetzel first surveyed this Cemetery on October 13, 1971, with infbmation given by Eldred Brewster Carruth and Mrs. Tom Dickey. It was updated by Jim and Georgia Rodgers on Februay 27, 2002.
---
Return to Cemeteries Home Page
Return to Brown County Historical Commission Home Page
Return to Brown County History Home Page