Macedonia Cemetery
(Weedon Cemetery)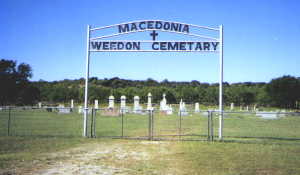 According to the author of "Early Communities of Lake Brownwood", Mrs. Patti Lee(Cross)Weedon, the Weedon family came to Brown County in 1884 , after being advised to get his children to a drier climate, John Francis Weedon bought a place about nine miles north of Brownwood, Texas, and a quit claim deed (vol. 678, page 736 of 2 and 1/2 acres of the W. T. Savage survey) to the Macedonia Cemetery, for both the church and Cemetery. Dated July 26, 1884.
This Church and Cemetery has served this community since 1881. The church was disband in 1957. The property remained with the Cemetery Association, while the area for the church was purchased by the Weedon family.
Early families of the Weedon community were, Cox, McInnis, Duffee, Johnson, McReynolds, Lovell, Matthews, and Purcell.
---
Return to Cemeteries Home Page
Return to Brown County Historical Commission Home Page
Return to Brown County History Home Page