Lost Creek Cemetery
(Hog Creek)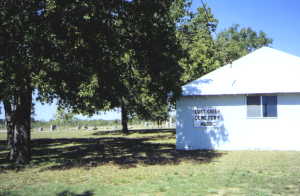 This Cemetery is sometime referred to as "Hog Creek Cemetery." since it is located near the Hog Creek. The earliest grave is that of J. W. Graves. Dated with the date of death of November 23, 1874.
Lost Creek had a Baptist Church and a log cabin for a school building. This was made of crude logs. The cracks were filled with mud to help keep out the cold. Then with hot weather the mud would be pushed out to let the breeze flow through. They had one teacher, a Mr. Gotcher, a crippled teacher. The first school was in 1882. There were twenty-five students.
This Cemetery was first surveyed by Mrs. Hazel Wetzel and Patty Weedon in June 1972. It was updated by Jim and Georgia Rodgers on October 2001. Information on this Cemetery can be found in Abstract 806, Survey 486 of the James E. Roberts Survey. From Brownwood take US 183 north to the community of May,TX. Watch for the CR 411 sign on the highway. Turn left. Travel about six miles, cross the creek, cemetery is on the right.
---
Return to Cemeteries Home Page
Return to Brown County Historical Commission Home Page
Return to Brown County History Home Page