Jordan Springs Cemetery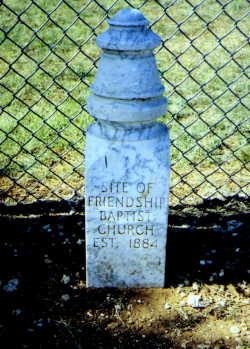 Jordan Springs Cemetery is the site of the original Friendship Baptist Church, which was established in 1884. This area was purchased by the United States War Department in 1940, along with two other area Cemeteries (Elkins and Indian Creek), for the purpose of forming the Texas National Guard Headquarters, known as the 36th Division. It became "Camp Bowie." This became the first major defense project in the state and encompassed some 5,000 acres.
Almost forgotten is a corner of the Jordan Springs Cemetery, where a few (5 or 6) Prisoners of War were buried. This section was fenced off from the remainder of the Cemetery, and reserved for the Prisoners of War. The remains of the prisoners who were buried here have since been removed to their native country. The care of this part of the Cemetery became the responsibility of the Prisoners of War.
This Cemetery property is recorded in Volume 597, page 186 (Deed Records), Block 59, in the Brown County Courthouse. From Brownwood take US 377 south. Travel about four miles south to CR 233. Turn left for two miles to the intersection of CR 225. This cemetery is difficult to see from this intersection. It is on the left or east side of the junction.
---
Return to Cemeteries Home Page
Return to Brown County Historical Commission Home Page
Return to Brown County History Home Page