Jones Chapel Cemetery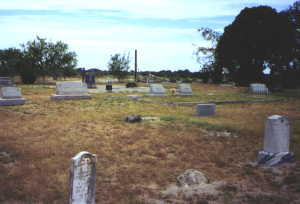 Jones Chapel Cemetery is located about four miles east of Brownwood, on US 377. Highway sign directs you to a left turn onto CR-316. After a short distance down this road you can see the Cemetery. This Cemetery was donated in 1870 by Cody Jones. Abstract 240, tr 56, out of the J. Duckworth Survey.
This is a small cemetery. In this Cemetery is a Texas Historical marker for one of Brown Counties earliest citizens, Mr. William F Brown. Mr. Brown enlisted in the Militia to fight Indians in 1836, and again 1838 in Putman County, Georgia. After his arrival in Brown County, he produced the first bale of cotton raised in Brown County. In the mid 1870's he lost two sons in battles with Indains.
This Cemetery was first surveyed by Hazel Wetzel in 1969 and has been updated by Jim & Georgia Rodgers in 2000.
---
Return to Cemeteries Home Page
Return to Brown County Historical Commission Home Page
Return to Brown County History Home Page