INDIAN CREEK CEMETERY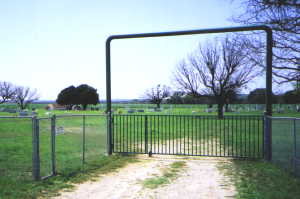 The first Methodist Church was established in 1880. It was a one room log building and was known as "Lamar Methodist." This church was located on the north side of the present Cemetery.
The name of Indian Creek derived its name from surveyors of the Bexar Land Dio:trict who encounter a Delaware Indian, whose companions had been killed by Comanches. William Wallace suggested the name of Indian Creek for the stream where they met the Indians. In 1940, the United States needed more acreage for Camp Bowie. Several thousand acres south of Brownwood were purchased. The families were required to move off the property and this area became one of the largest military and training post in the United States.
From Brownwood take US 377 south to CR 233, turn left. Go three miles to a "T" or junction of CR 237. Turn right for an additional four miles. Cemetery is on the right.

---
Return to Cemeteries Home Page
Return to Brown County Historical Commission Home Page
Return to Brown County History Home Page