Location: Center Avenue near intersection with Austin Ave., Brownwood
.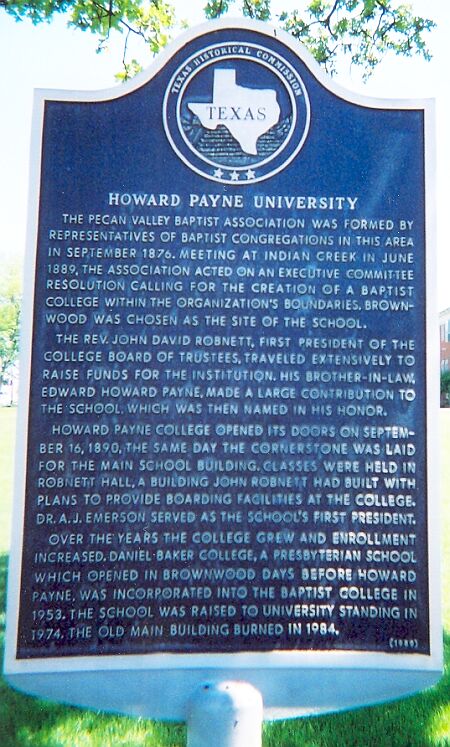 HOWARD PAYNE UNIVERSITY
THE PECAN VALLEY BAPTIST ASSOCIATION WAS FORMED BY
REPRESENTATIVES OF BAPTIST CONGREGATIONS IN THIS AREA
IN SEPTEMBER 1876. MEETING AT INDIAN CREEK IN JUNE
1889, THE ASSOCIATION ACTED ON AN EXECUTIVE COMMITTEE
RESOLUTION CALLING FOR THE CREATION OF A BAPTIST
COLLEGE WITHIN THE ORGANIZATION'S BOUNDARIES. BROWN-
WOOD WAS SELECTED AS THE SITE OF THE SCHOOL.
THE REV. JOHN DAVID ROBNETT, FIRST PRESIDENT OF THE
COLLEGE BOARD OF TRUSTEES, TRAVELED EXTENSIVELY TO
RAISE FUNDS FOR THE INSTITUTION. HIS BROTHER-IN-LAW,
EDWARD HOWARD PAYNE, MADE A LARGE CONTRIBUTION TO
THE SCHOOL, WHICH WAS THEN NAMED IN HIS HONOR.
HOWARD PAYNE COLLEGE OPENED ITS DOORS ON SEPTEM-
BER 16,1890, THE SAME DAY THE CORNERSTONE WAS LAID
FOR THE MAIN SCHOOL BUILDING, CLASSES WERE HELD IN
ROBNETT HALL, A BUIIDING JOHN ROBNETT HAD BUILT WITH
PLANS TO PROVIDE BOARDING FACILITIES AT THE COLLEGE.
DR. A. J. EMERSON SERVED AS THE SCHOOL'S FIRST PRESIDENT.
OVER THE YEARS THE COLLEGE GREW AND ENROLLMENT
INCREASED. DANIEL BAKER COLLEGE, A PRESBYTERIAN SCHOOL
WHICH OPENED IN BROWNWOOD DAYS BEFORE HOWARD
PAYNE, WAS INCORPORATED INTO THE BAPTIST COLLEGE IN
1953. THE SCHOOL WAS RAISED T0 UNIVERSITY STANDING IN
1974. .THE OLD MAIN BUIIDING BURNED IN 1984.
(1989)
Return to Historical Markers
Return to Historical Commission Home Page