FAIRVIEW CEMETERY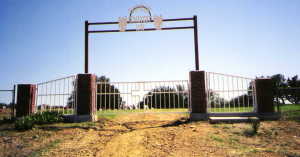 The Fairview Cemetery is located about 2 miles west of Grosvenor Community. From Brownwood take Highway 279 northwest to FM 1850, turn left. Go through Grosvenor and cross FPI 484 onto County Road 108, for one mile. Cemetery is on the left. The Cemetery has a north entrance and by going around the curve is a south entrance, with an additional parking area.
The deed for the Fairview Cemetery is recorded in Volume 730, page 727. Abstract 707. It is our of the 3. 3. Martin Survey. Abstract F1354 in the H. T.. 4 B.R.R. Co. Survey. Abstract 1275 H. T.. B. Survey for a total of 3.68 acres. First surveyed February 25, 1974 and then again October 10, 1979 by E. T. and Hazel Wetzel.
In order to update the Mrs. Wetzel's book, it was again surveyed August 14, 2001, by Jim and Georgia Rodgers. Additional information provided by Mrs. Joyce Byrd.
---
Return to Cemeteries Home Page
Return to Brownwood Historical Commission Home Page
Return to Brown County History Home Page