Elkins Cemetery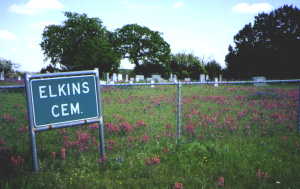 This Cemetery is located straight out Austin Avenue, in Brownwood, Texas. On County Road 2126, approximately seven miles south of the intersection, of FM 2126 and FM 2524. This was first surveyed by Mrs Hazel Wetzel in 1967. Jim and Georgia Rodgers updated the Cemetery in June 1999.
The history of this Cemetery goes back to the days of Noah T. Byars, who helped to establish the Live Oak Church, in 1876. Capt Silas H. Wood donated the land for the Church and Cemetery. The name of the connnunity at that time was known as Gholson. After 1900, the name was changed to Elkins, after a family who owned and operated a mercantile store in the area.
'Ilhis Cemetery has been in continous use since 1876, with the exception of the time frame of Camp Bowie days, 1939 - 1946. At that time some of the graves were moved to a location of satifaction to the immediate families. The commtnity was displaced. After Camp Bowie was declared obsolete, some of the community returned and the Cemetery became active again.
There are 18 service men buried here. Most of them Confederate veterans. Two World War I and one World War II veterans. Two Union veterans are buried here, along with their families.
The deed to the Cemetery is recorded in Vol 498, page 2. Abstract # 578. It is out of the John Kellogg Survey. The Cemetery has an Association.
---
Return to Cemeteries Home Page
Return to Brown County Historical Commission Home Page
Return to Brown County History Home Page