Location: Brown County Courthouse
.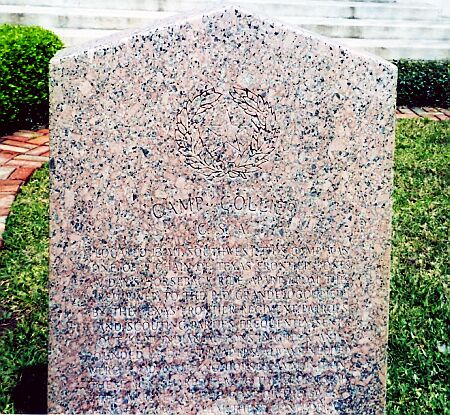 CAMP COLLIER
C.S.A.
LOCATED 13 MI. SOUTHWEST THIS CAMP WAS
ONE OF A CHAIN OF TEXAS FRONTIER POSTS
A DAY'S HORSEBACK RIDE APART FROM THE
RED RIVER TO THE RIO GRANDE. OCCUPIED
BY THE TEXAS FRONTIER REGIMENT. PATROLS
AND SCOUTING PARTIES FREQUENTLY SENT
OUT KEPT INDIAN ACTIONS IN CHECK AND
ROUNDED UP DRAFT EVADERS. ALWAYS NEEDED WERE FOOD, CLOTHING, HORSES, AMMUNITION.
THESE MEN SHARED FEW OF THE GLORIES OF
THE WAR. YET A THE COST OF THE LIVES OF
NOT A FEW OF THEM, THESE CONFEDERATE
SOLDIERS MANAGED TO BRING A MEASURE OF
PROTECTION TO A VAST FRONTIER AREA.
A MEMORIAL TO TEXANS
WHO SERVED THE CONFEDERACY
ERECTED BY THE STATE OF TEXAS 1963
Return to Historical Markers
Return to Historical Commission Home Page