Location: Austin Ave., HPU Academy Campus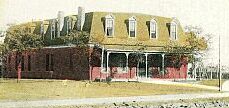 .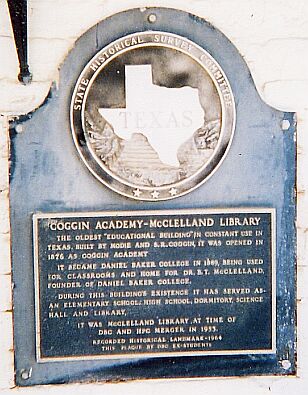 1111
COGGIN ACADEMY - McCLELLAND LIBRARY
THE OLDEST "EDUCATION BUILDING" IN CONSTANT
USE IN TEXAS. BUILT BY MODIE AND S. R. COGGIN,
IT WAS OPENED IN 1876 AS COGGIN ACADEMY.
IT BECAME DANIEL BAKER COLLEGE IN 1889, BEING
USED FOR CLASSROOMS AND HOME FOR DR. B. T.
McCLELLAND, FOUNDER OF DANIEL BAKER COLLEGE.
DURING THIS BUILDING'S EXISTENCE IT HAS SERVED
AS AN ELEMENTARY SCHOOL, HIGH SCHOOL,
DORMITORY, SCIENCE HALL AND LIBRARY.
IT WAS McCLELLAND LIBRARY AT TIME OF
DBC AND HPC MERGER IN 1953.
RECORDED HISTORICAL LANDMARK - 1964
THIS PLAQUE BY DBC EX-STUDENTS
Return to Historical Markers
Return to Historical Commission Home Page