Location: 115 South Broadway, Brownwood

.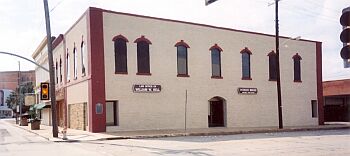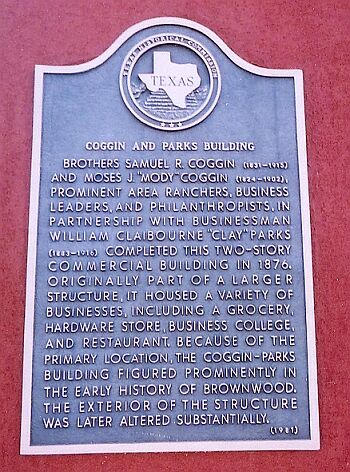 COGGIN AND PARKS BUILDING
BROTHERS SAMUEL R.COGGIN (1831-1915)
AND MOSES J. "MODY" COGGIN (1824-1902) ,
PROMINENT AREA RANCHERS, BUSINESS
LEADERS, AND PHILANTHROPISTS, IN
PARTNERSHIP WITH BUSINESSMAN
WILLIAM CLAIBOURNE "CLAY" PARKS
1883-1916) COMPLETED THIS TWO-STORY
COMMERCIAL BUILDING IN 1876.
ORIGINALLY PART OF A LARGER
STRUCTURE, IT HOUSED A VARIETY OF
BUSINESSES, INCLUDING A GROCERY,
HARDWARE STORE, BUSINESS COLLEGE,
AND RESTAURANT. BECAUSE OF THE
PRIMARY LOCATION, THE COGGIN-PARKS
BUILDING FIGURED PROMINENTLY IN
THE EARLY HISTORY OF BROWNWOOD.
THE EXTERIOR OF THE STRUCTURE
WAS LATER ALTERED SUBSTANTIALLY.
(1981)
Return to Historical Markers
Return to Historical Commission Home Page