Clear Creek Cemetery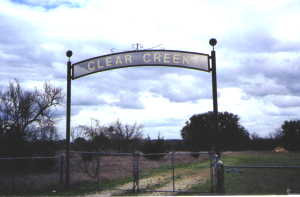 This cemetery is located east of Bangs, on Highway U.S. 67, turn left onto County Road 197. Marker on highway points to Cemetery. Drive one mile, then turn left. Cemetery is on the right. An active Cemetery Association keeps the grounds in good condition. It was first surveyed January 23, 1972 by Mrs. Hazel Wetzel. Some information on the cemetery came from Nan C (Harriss) Wright, Emily Mauldin, Josephene (Spain) McHan, and Neil Gwathmey. All burials prior to this date are listed in the book: RURAL CEMETERY INSCRIPTIONS BROWN COUNTY, published in 1980.
Jim and Georgia Rodgers updated the cemetery on October 13, 1999. Warranty deed filed in Brown County Clerk's Office, Abst. # 17, Survey No. 50, Juan Armendaris, filed April 13, 1901. Deed recorded in Volume 1484, page 266.
---
Return to Cemeteries Home Page
Return to Brown County Historical Commission Home Page
Return to Brown County History Home Page