Location: East City Limits on U.S. 67-84-377 in Roadside Park
.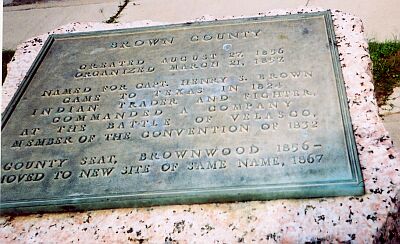 Brown County
Created August 27, 1856; organized March 21, 1857
Named for Capt. Henry S. Brown. Came to Texas in 1824. Indian trader and fighter, commanded a company at the Battle of Velasco, member of the convention of 1832.
County seat, Brownwood, 1856. Moved to new site of same name, 1867.
Return to Historical Markers
Return to Historical Commission Home Page