Brown Family Cemetery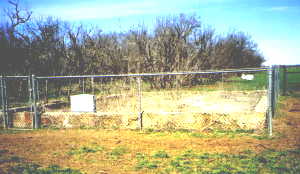 The marker at the cemetery says "W. F. Brown Family Cemetery, came to Brown County 1857. His son Cabe killed by Indians." There are seven known graves in the cemetery, four of them are children of W. F. Brown. They are Sara, Sethenia, Evelyn and Cabe.
Cabe Brown, age 11, was playing outside when he spied a band of Indians stealing their horses. Before he could run in the house, he was shot in the stomach with an arrow and lived three days before he died. William H. Brown, John Brown and others, followed the Indians and caught up with them in Runnells county. William was killed by one of the Indians and was buried at the spot where he fell. The Indians made off with the horses they had stolen earlier. He was the last person to be killed by Indians in Runnells county.
In 1857, William F. Brown built a log cabin near the place where Heartland Mall stands today. He was married three times and had twelve children. He was not buried in the family cemetery above, but instead was buried in the Jones Chapel Cemetery in 1918 at age 99. A historical marker is erected at his grave. Brown Street in downtown Brownwood is named in his honor.
From Brownwood take US 377 east to Early, TX. Turn left onto Longhorn Dr. Then left again at Bluebonnet Dr. Located behind house at 111 Bluebonnet Dr., Early, TX. Located on private property behind house.
---
Return to Cemeteries Home Page
Return to Brown County Historical Commission Home Page
Return to Brown County History Home Page