AMITY CEMETERY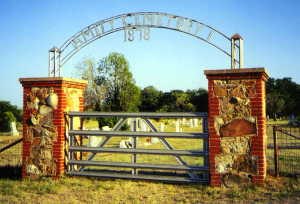 .
"Amity", the name meaning friendship was given to the cemetery, community school and the Baptist Church, by the early settlers. Located in what is now Comanche County, but the cemetery use to be in Brown County. Charles Farley who died at the age of fourteen, was the first person to be buried here. Date of February 23 1878. At the time of his death no cemetery near by, so he was buried on the family farm. Three months later, May 15 1878, Fannie Nichols, the three year old daughter of G. W. and M. A. Nichola died. She was buried a short distance east. The Farleys set aside an acre of their land to be used as a community burial place.
In 1885, William H Lindley moved his family from Mississippi to Texas. When he liquidated his land, the cemetery had several burials on this site. Mr. Lindley donated this land for the community cemetery.
A brush arbor was built near the center entrance on the north side, in 1878. At the same time the Amity Baptist Church was organized, under this arbor. The Amity School was built one mile northwest of the Cemetery.
From Brownwood/Early take US 183 north, thorough May, TX to CR 495. Turn right onto CR 495/CR491. This is a gravel road. Travel 1.8 miles to the junction of CR 487. Turn left and travel 1.3 miles to the junction of Comanche CR 127. Turn right on CR 127 to Junction with CR 131 in 1.6 miles. Cemetery is at intersection.

---
Return to Cemeteries Home Page
Return to Brownwood Historical Commission Home Page
Return to Brown County History Home Page