Sheriffs lived in the downstairs part of the Brown County jail.
Not a comfortable place to stay!
Jails cells were located on the second and third floors.
Display of a timeline of sheriffs of
Brown County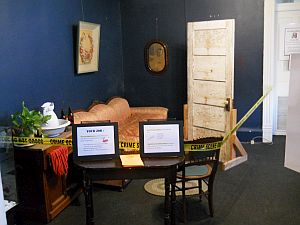 The Brown County Jail was designed and constructed by two of the leading jail companies in the South, Youngblood Brothers of Troy, Alabama, and Martin, Moodie & Company of Comanche, Texas. This building was built in 1902-1903 as the 3rd county jail. It was completed June 29,1903. It is made from cut stone in Brown County. Al Morton, a local stonemason, built the stone walls. L. S. Leversedge & Son of Dallas erected the iron fence.