Souvenir Folder of Brownwood, Texas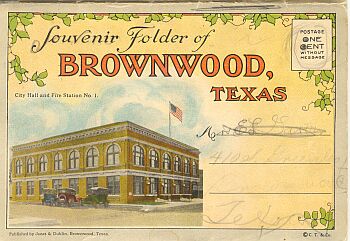 In the early part of the 20th Century, postcards were very popular way of people collecting photos of places they visited. Instead of taking a photo, using a camera, of which very few owned them, a person could just collect all the postcards that showed what buildings, etc. were in a local community.
Sometime between December 1923 and April 1924, the Jones & Dublin Company of Brownwood published a "Souvenir Folder of Brownwood, Texas." There were some 19 photos of Brownwood in the folder of the various buildings at the time of publication. We have recently been donated one of these folders and are pleased the present the contents to you.
We want to thank Larry Garvin of San Angelo, Texas for donating this folder to the museum. Some of the photos used in the folder were taken by "The Rogers Studio."
You can click HERE to go to the written part of the folder which brags about Brownwood and what it had to offer in the early 20's.